On September 22, we headed over to Eastern Washington to take a 175 mile overnight boat trip up the Snake River with some friends. We stopped at the Ginko Petrified Forest state Park Museum in Vantage and then at Palouse Falls State Park.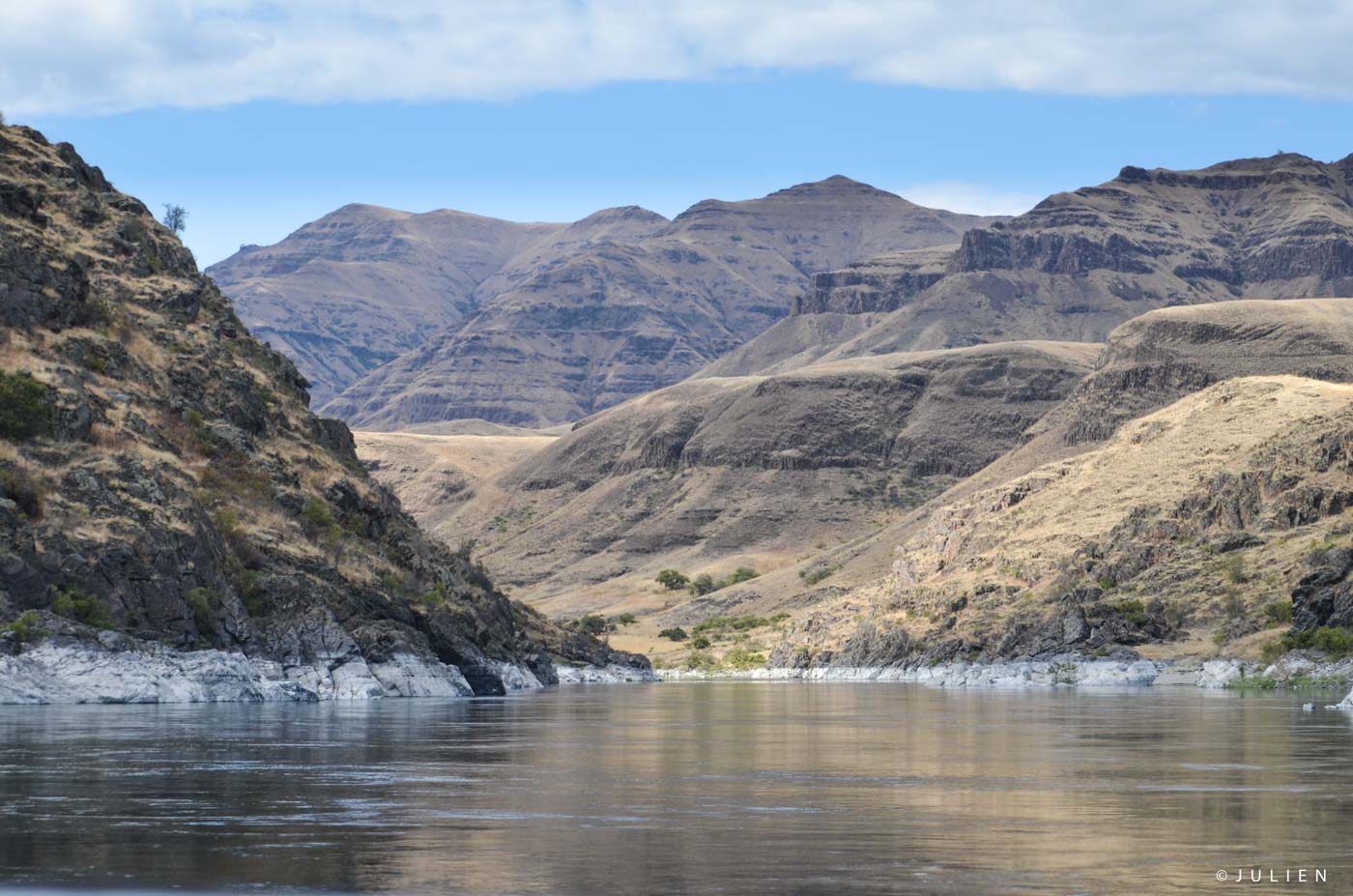 Ginkgo Petrified Forest State Park Museum
The Ginkgo Petrified Forest Museum is a World Heritage Site founded in 1965 on 7,470 acres of the Columbia River in Vantage, WA. My husband's second cousin, Prof. F. George Beck, geology professor at Central, WA U, was instrumental in getting it recognized as a protected Federal Land in 1933. Besides the petrified wood specimens and the history in the museum, there is an outdoor collection of petroglyphs that were taken from the shore of the Columbia River in 1963 when the Wanapum Dam was completed about four miles (6 km) downstream, raising the water level of the Columbia River.
The Palouse
Next we headed towards Clarkston, WA through the Palouse with a stop at Palouse Falls State Park
Hell's Canyon
Hell's Canyon is 7,993 feet deep making it the deepest canyon in N. America and one of the deepest in the world. We took a jet boat 80 miles up the River and spent a night at the Copper Creek Lodge and returned the following day.
We started out from Clarkston, WA and headed south up the Snake River towards Oregon. The Snake River originates in Yellowstone National Park at 9,500 feet and winds through southern Idaho and then turns north to form the boundary between Idaho and Oregon. It finally joins the Columbia River near Pasco, Washington. It ranks 6th in volume among the nation's rivers. The Snake water level was extremely high this summer and a white-colored water line was clearly visible along most of the banks indicating it was about 6 feet higher in the spring. The late September level was still quite high, making it the highest it has ever been for that month. The River drops an average of 8.7 feet per mile from Hells Canyon Dam to the Oregon state line, and is fairly narrow in some areas, making for a fairly difficult river to navigate. Recreation and ranching are regulated at different levels in different parts of the canyon. In late September, we still saw many rafters and kayakers. There were also a significant number of fisherman and tour boats on the river.
The canyon is teeming with wildlife. We spotted many deer, bighorn sheep, wild turkeys, herons, eagles, chukar partridge, peregrine falcons, and many species of water fowl. Deer, turkeys, and rabbits grazed within feet of our cabin. We also saw many signs of "Bob" the bear who was the resident black bear at the lodge. We were told a cougar had been recently spotted at the lodge. The chef had a recording of his midnight snarling outside his cabin.  We also heard of elk, mountain goat, wolves, Canada lynx, and wolverine sightings. The Nez Perce, former residents of the canyon, also had legends of Sasquatch interactions.
Our guide pointed out many areas that had been the scene of historical events:
Dug Bar — 700 Nez Perce under the command of Chief Joseph were forced by the American government to leave their reservation in Oregon and relocate to a reservation in Idaho. They crossed the Snake with their cattle and horses at Dug Bar early in spring of 1877 when the Snake was at its highest — losing many cattle and at least one horse. This was a sad event especially since the Nez Perce had always been a peace loving tribe and had provided food, shelter, and care of their horses to Lewis and Clark in 1805.
Chinese Massacre Cove — This is the spot where a gang of white frontiersmen robbed and killed three dozen Chinese gold miners on May 25, 1887.
Shipwreck site — where a boat spanned the river in a narrow spot and broke into pieces.
Note: Many of the photos in this album were taken thru plexiglas windows in a jet boat moving thru rapids.